LOOK AT ALL I DID IN 2003!
I can't even believe it

I had a GREAT time in Washington DC for this event. I was honored to be selected to give my testimony about what life with diabetes is like for me to my Congressmen and Senators. I know I made a difference and it was amazing being there with so many other kids that have one thing in common, WE ALL NEED A CURE!
Click Here to see pictures and read about what we did!


Juvenile Diabetes Research Foundation's web site.

JDRF WALK TO CURE DIABETES
Pro Football Hall of Fame, Canton OH
Saturday September 13, 2003
We raised over $5000 for a cure! Thank You!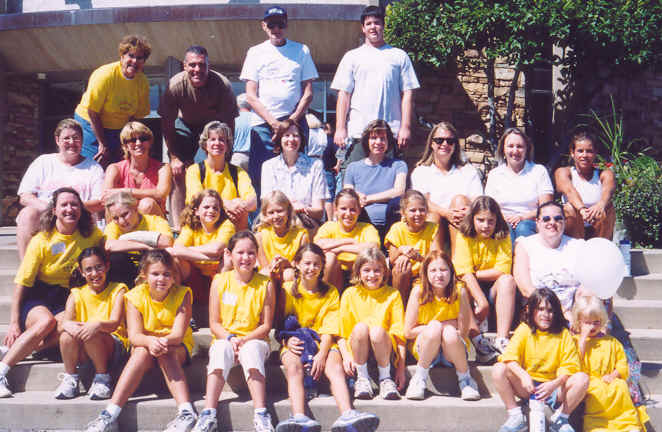 TEAM STEPHANIE 2003 (ROCKS)
THANK YOU to everyone who came out and walked! It was a great day that set records for the number of people and the amount of money raised. See more pictures here.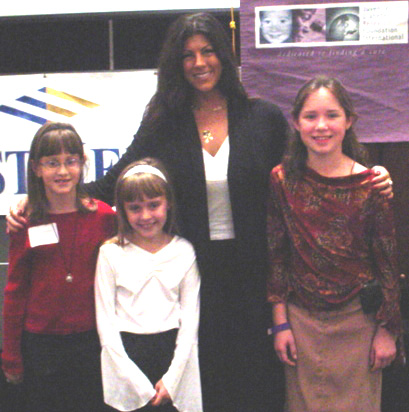 JDRF Walk to Cure Diabetes Awards Ceremony November 12, 2003
Click here for more 2003 Walk pictures.

JDRF Night at the AKRON AEROS GAME
August 20, 2003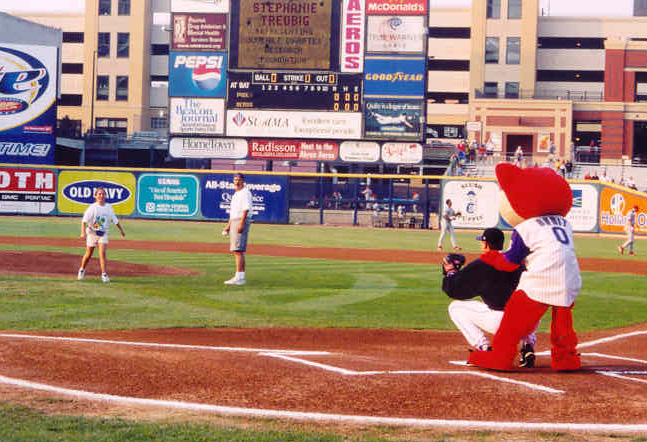 I threw out the first pitch at the game! It was a STRIKE!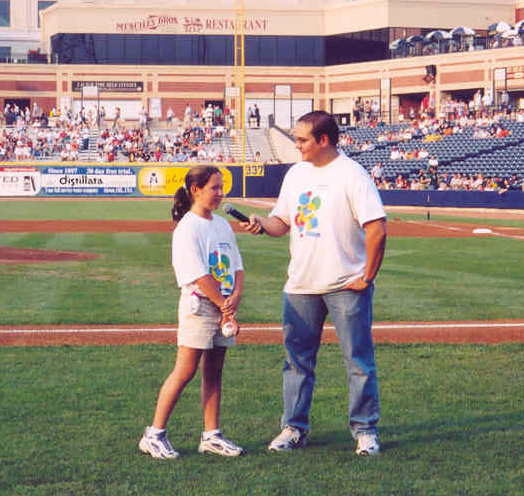 Mark Syroney, JDRF Special Events Coordinator and I went on the field to ask people to participate in the Walk to Cure Diabetes at the Pro Football Hall of Fame.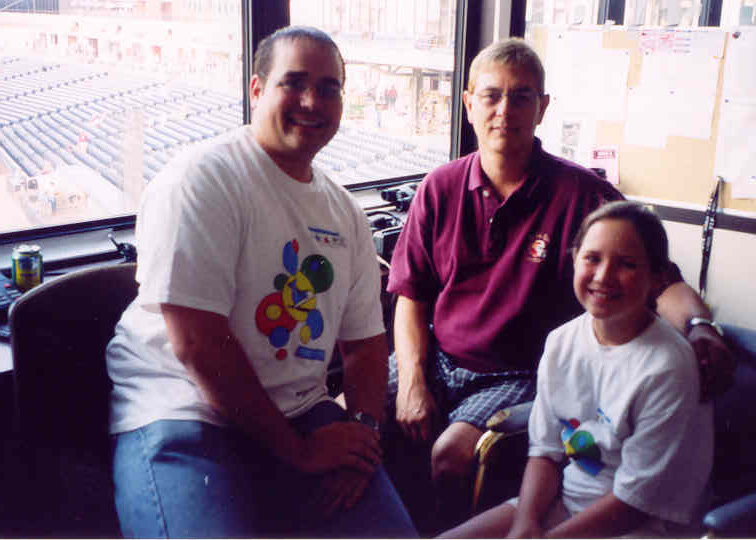 Mark and I did an interview by Jim Clark on radio station 1350 AM just before the game. We talked about juvenile diabetes and about the Walk to Cure Diabetes.

WKDD Sunday Magazine with Angela
August 6, 2003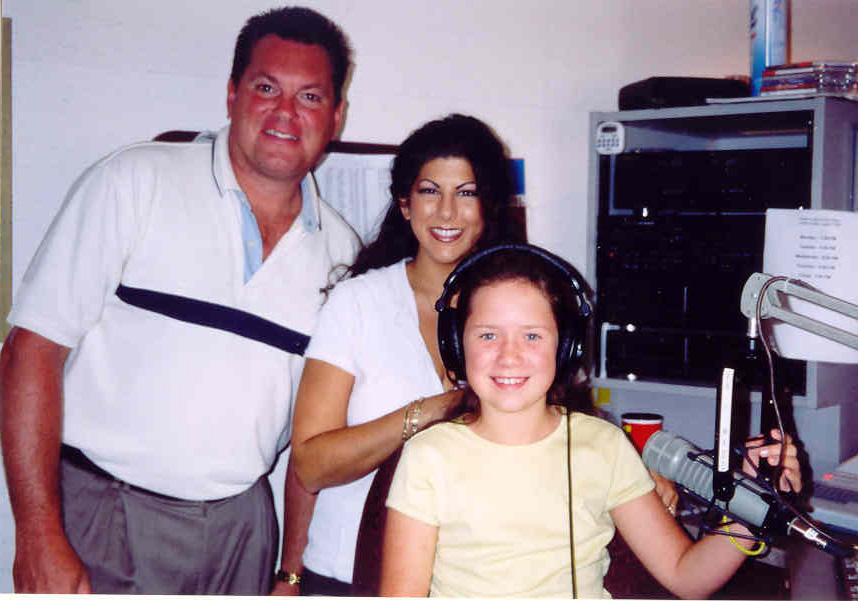 This is a picture of me with Matt Patrick and Angela at the WKDD studio. They are very nice and funny. My mom listens to their morning show every day.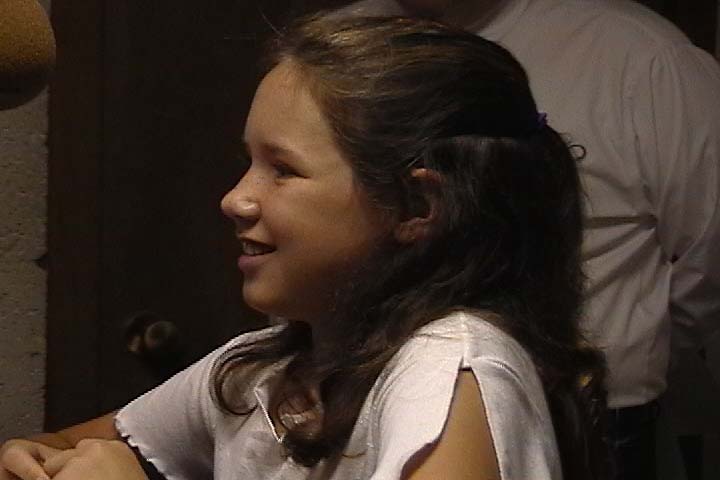 I was interviewed at the WDKK studio for Angela's Sunday magazine show. It was fun to be in the recording studio. The interview can be heard Sunday nights at 11 pm on WKDD.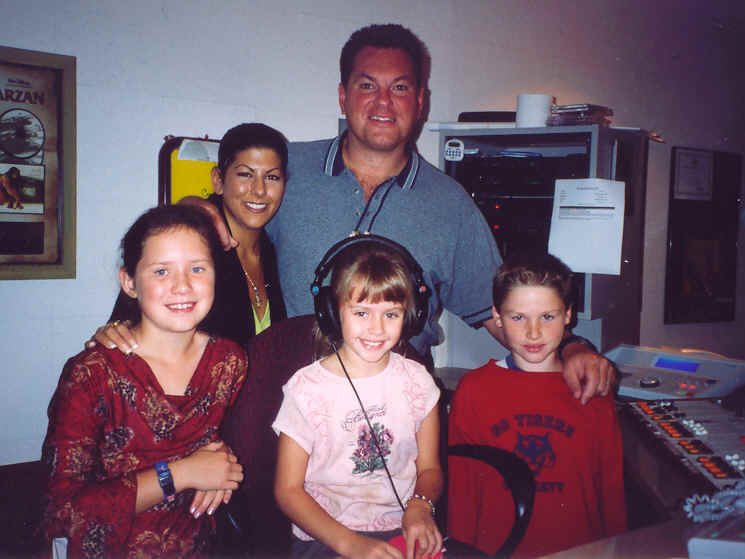 My friends Annie, Daniel and I went to the WKDD studio and did a live interview with Matt Patrick and Angela. We talked about what it is like living with juvenile diabetes and about the JDRF Walk to Cure Diabetes. Thanks to WKDD for being a media sponsor and thanks to Angela for having me on her Sunday Magazine program and thanks to Matt and Angela for having us on their morning show live. I also wanted to thank Matt Patrick for coming to the Walk. I was so sad I missed him but my mom talked to him and I really appreciate him taking the time to come out!

CEO Corporate Recruitment Breakfast
Firestone Country Club
May 7, 2003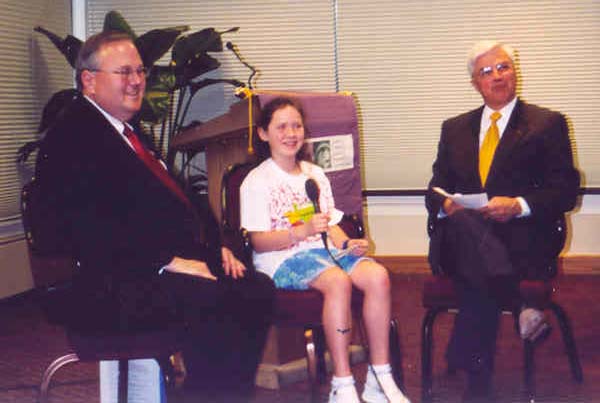 I interviewed Mr. John R. Cochran, Chairman and CEO of First Merit Corporation and Mr. Robert P. Brecht president, First Merit Southern Division at the JDRF CEO breakfast. Both men are the JDRF 2003 Walk to Cure Diabetes Corporate Recruitment Co-Chairmen. I am working on a JDRF Walk to Cure Diabetes documentary film. This was a lot of fun!

JDRF Walk to Cure Diabetes East Central Ohio Team Captain Lunch
July 16, 2003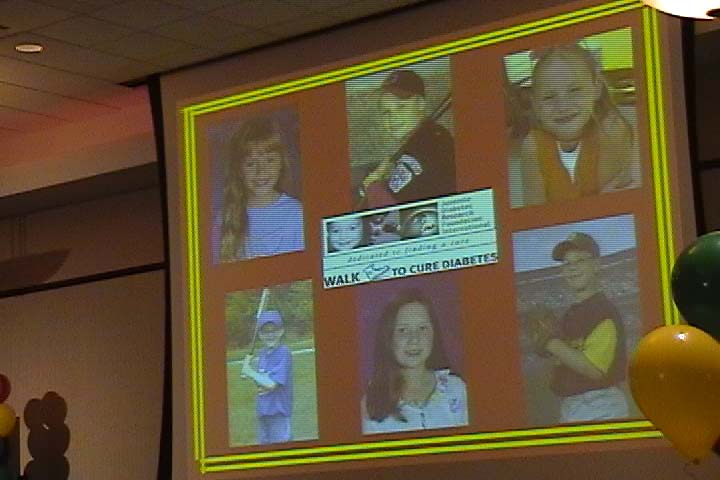 I talked about what I would do on the day I was cured of diabetes. I said, "the day I am cured I am going to throw away all my diabetes supplies and eat a whole pumpkin pie by myself!"

Roadway Express Walk Kick-Off Presentation
August 4, 2003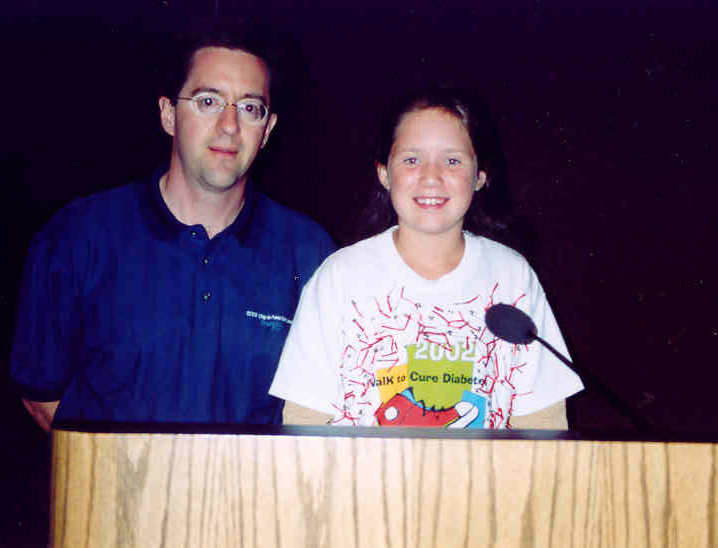 I gave my PowerPoint presentation at Roadway Express in Akron for their internal Walk to Cure Diabetes kick-off. This is a picture of me with Bill Michael of Roadway.

JDRF Family Team Workshop at the Akron Aeros
May 24, 2003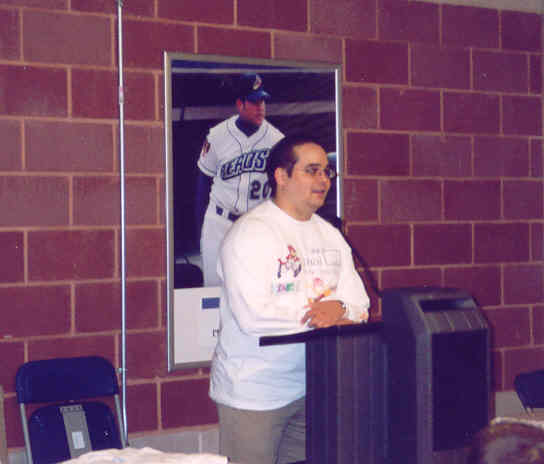 This is Mark, JDRF Special Events Coordinator at the Family Team Captain Workshop at the Akron Aeros picnic area. My mom and I conducted a letter writing workshop and other people talked about their letter writing success. Then we all went to the game!! It was a fun night.
This is my brother recording the Workshop for my documentary.

Rotary Club of Hudson
June 18, 2003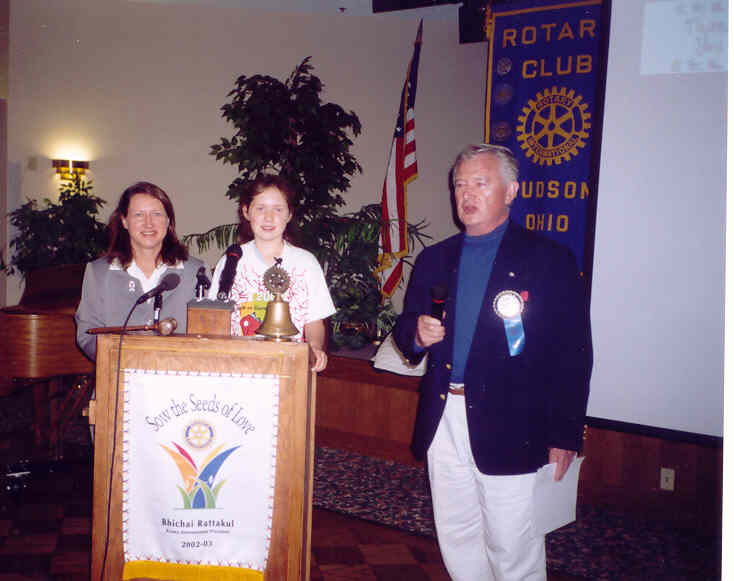 My mom and I gave our PowerPoint presentation to the Rotary Club of Hudson morning meeting at Laurel Lakes. We are pictured here with President Den Rich. We were honored with a standing ovation at the end of our program.
THANK YOU ROTARY CLUB OF HUDSON!
Here is the article that was printed by the Rotary Club of Hudson
Weekly Bulletin
Welcome to the Hudson Rotary Club
Wednesday, June 18th, 2003
"Sow the Seeds of Love"
Last Week's Program
Our speaker last week may have been the youngest ever at Hudson Rotary. Stephanie Treubig just completed 4 th grade at East Woods Elementary School . She was diagnosed with juvenile diabetes in August of 2000. There are two types of diabetes – type 1 and type 2. Contrary to what some believe, juvenile diabetes is not caused by diet and impairs the body's ability to use food because the pancreas does not make insulin. People with juvenile diabetes require insulin injections for life. Symptoms of the disease include thirst, blurred vision, frequent urination, weight loss despite having an appetite, fatigue and pain / tingling of body parts. Currently, there is no cure. However, through insulin injections or in Stephanie's case, an insulin pump, many diabetics can remain symptom free. In fact, looking and watching Stephanie, you would never know she has the disease. She participates in soccer, swimming, baseball and enjoys horseback riding.
Stephanie and her mom will travel to Washington , D.C. and testify before the United States Congress. They will also meet with Ohio Senators / Congressman. They are hopeful to continue spread their message about diabetes and help raise money for the Juvenile Diabetes Research Foundation (JDRF). JDRF was founded in 1970 to help find a cure for juvenile diabetes. Almost $600 million has been raised and about 85% of this money has been allocated to research. Recently, this money has been used to fund a treatment called Edmonton Protocol. About 80% of diabetics who received this treatment no longer have to have insulin injections.
Closer to home, once Stephanie and her family return from Washington , D.C. , they will participate in the Akron-Canton Walk to Diabetes during Pro Football Hall of Fame weekend. You can show your support by walking or giving money. For more information, you can visit the web sites, <www.setforacure.org> or <stephanie@setforacure.org>

Hudson Community Expo 2003
I had a booth at the Hudson Chamber of Commerce Community Expo in April. It was fun to talk to all the people there. I handed out bags of information about JDRF and about the Walk.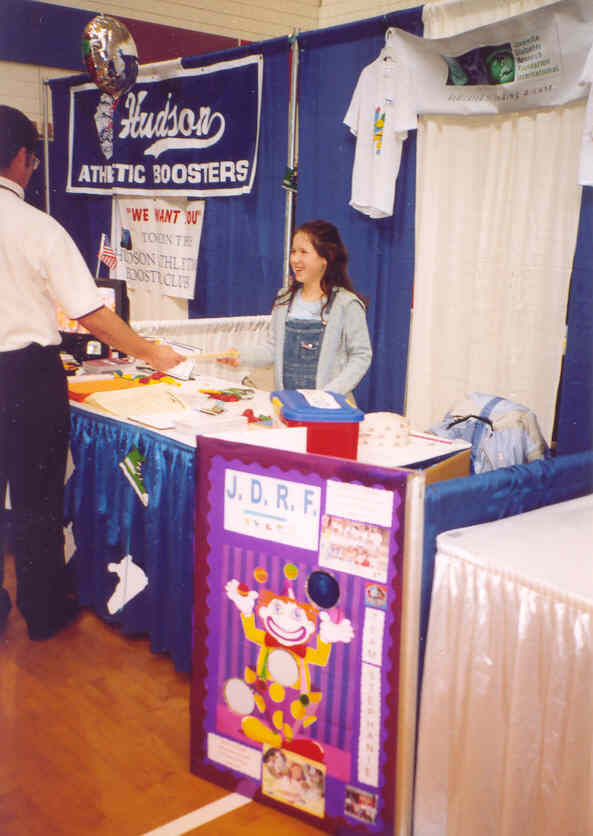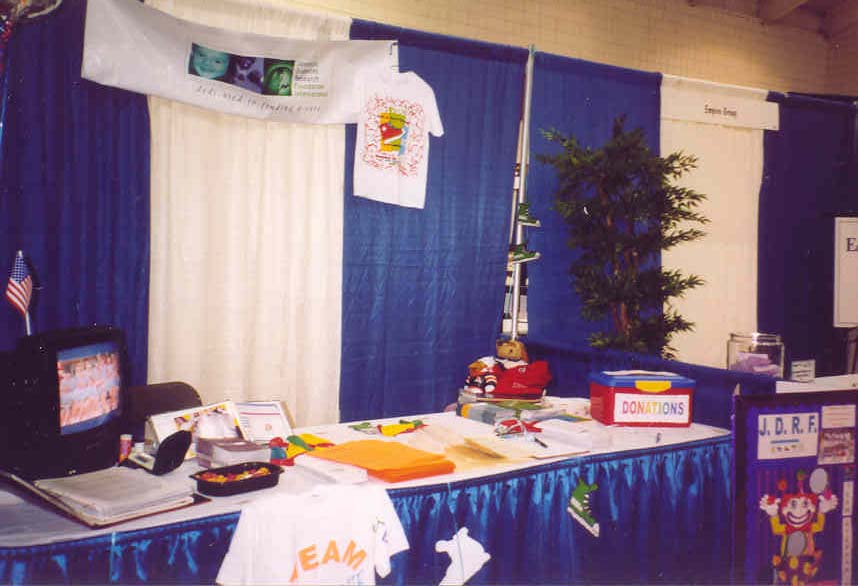 Valentines Day Celebration
to benefit JDRF and raise awareness was a HUGE success thanks to all the people who care and the support of the local merchants. The generosity of the community and the warm hearts of the kids at East Woods made it an event to remember. There are already plans to do it again next year
THANK YOU!!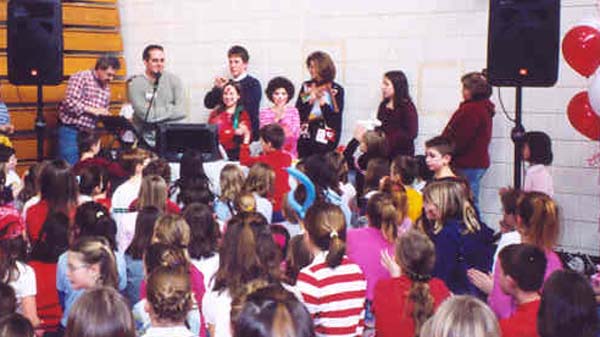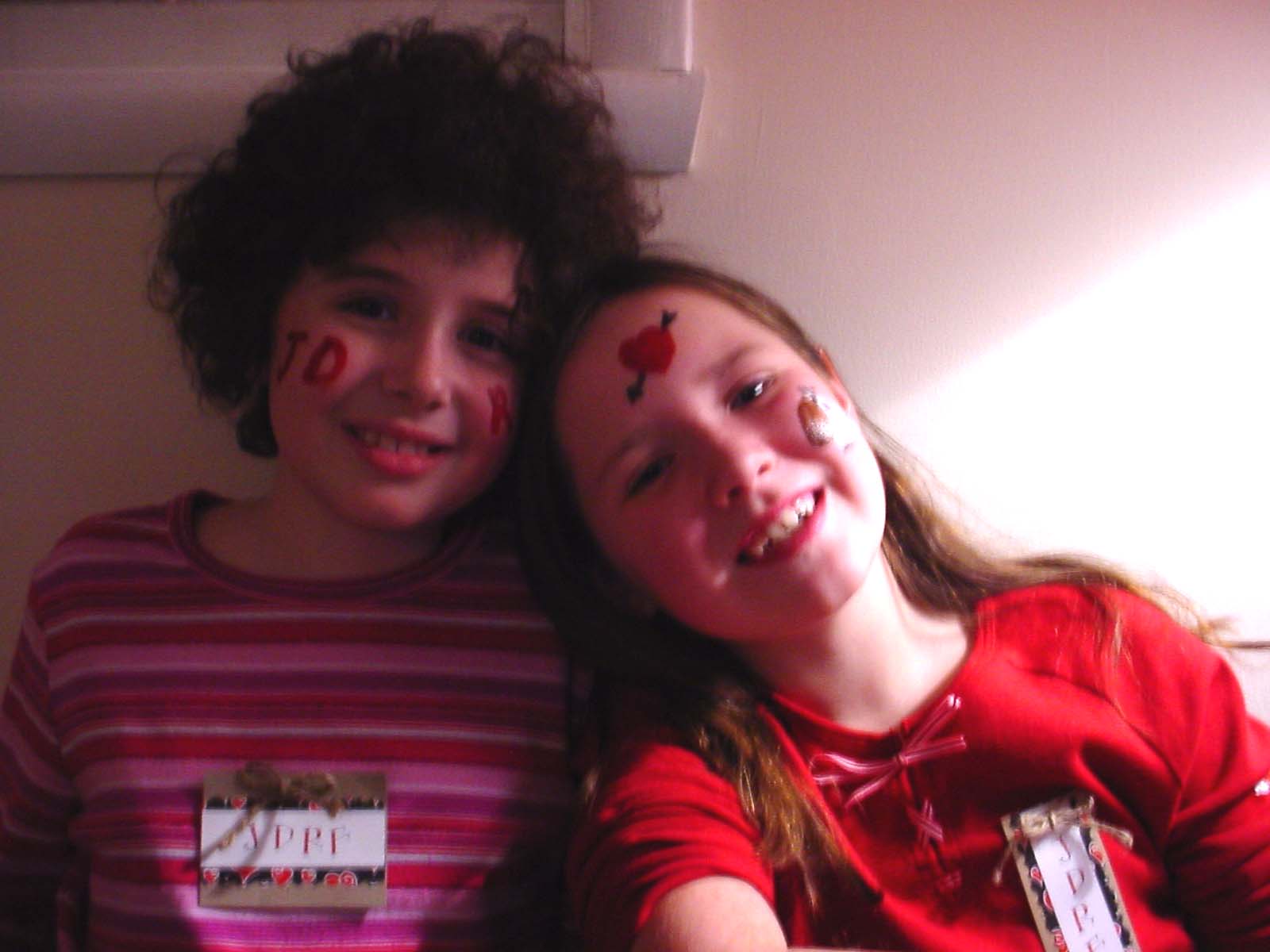 Sam and I had a great time at the dance and so did our friends! We are glad that we all can make a difference in finding a cure for diabetes!
Press release: Pictured above are East Woods students, Samantha Zimmerman (left) and Stephanie Treubig presenting a check for $1,800 to Mark Syroney, Juvenile Diabetes Research Foundation (JDRF) Special Events Coordinator. Funds were raised to benefit the JDRF from a very successful 'Valentine Celebration' held February 14th at East Woods School. The JDRF Dance Committee would like to thank the following merchants for their generous donations that helped make the 'Valentine Celebration' a huge success and brings us closer to a cure for diabetes! Donors included the following: The Outpost, Saywell's Drugs, Sports Heaven, Smythe Cramer Co., Confetti Ice Cream-N-Treats, Perkins Restaurant, All Star Sports, JoAnn Stores, Inc., Printer's Devil, Inc., Bruegger's Bagel Bakery, Yours Truly Restaurant, ACME Supermarket, The Flood Company, Quality Environmental Technologies, Bearing and Transmission Supply, Kent LeMar Dance Studio, Fun 'N Stuff, Wheeler Publishing, Regal Cinema, T.F. Novelties, Mammoth Video, Sam Ash Music, Jackie Patton, Jeff and Judie Quin, Andrew Todd-Smith, the East Woods School 4th & 5th grade students and administrative staff, Hudson High School student volunteers and guidance office, and all the adult chaperones!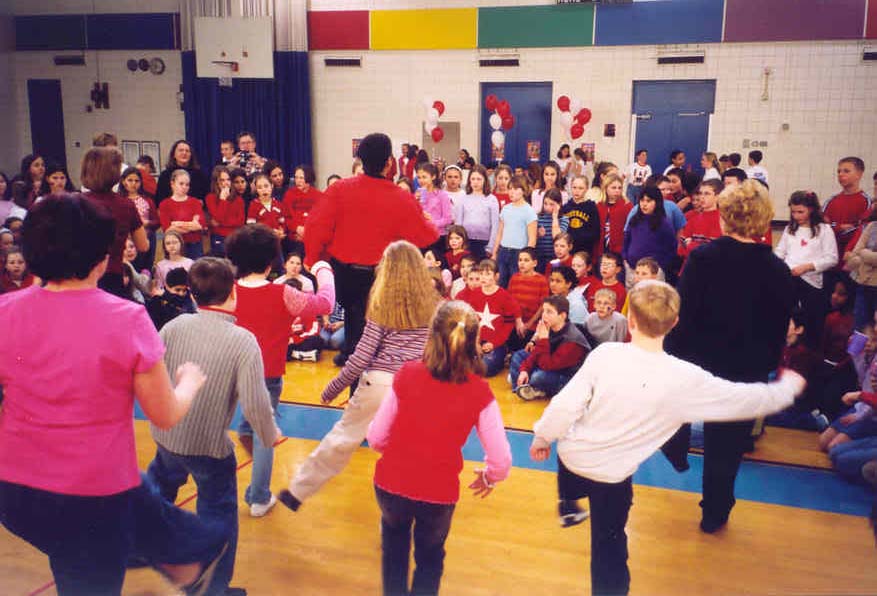 Kent Lemar Dance Studio provided some Hip Hop Dance demonstrations.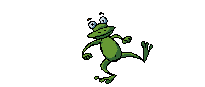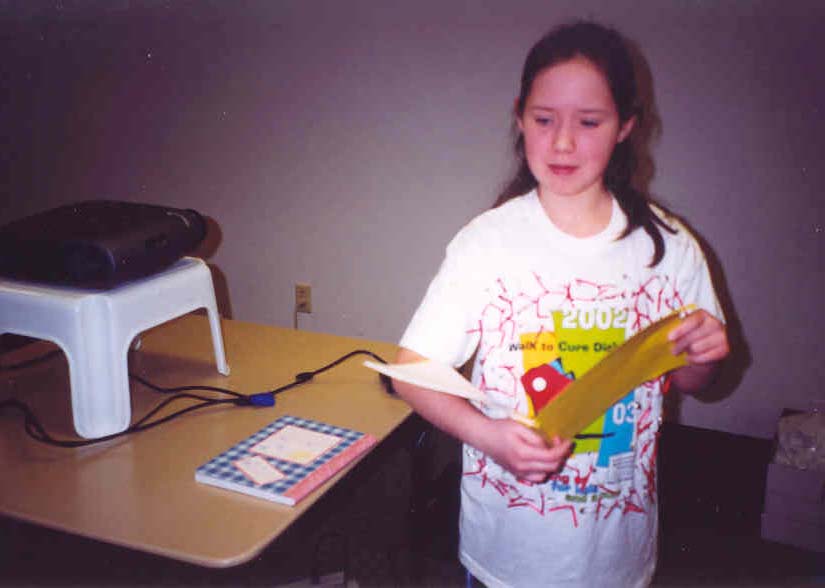 I gave my PowerPoint presentation at the St. Mary's Woman's Guild St. Nicks Circle meeting on February 12, 2003. The ribbons on my shirt show how many times I used to get a shot (93) and on the back are the number of shots I get with my pump (10) per month.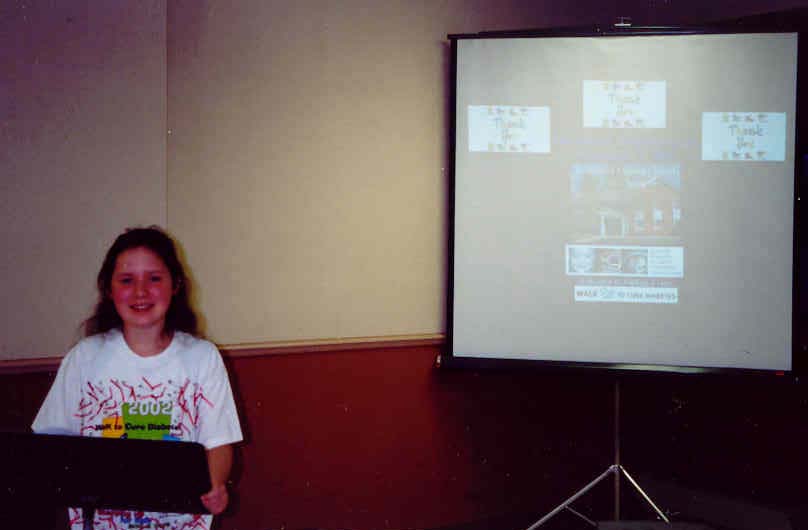 I gave my presentation at my church, Richfield United Church of Christ.


Check back soon to see what else I am doing in 2003!
Look here for more about this year