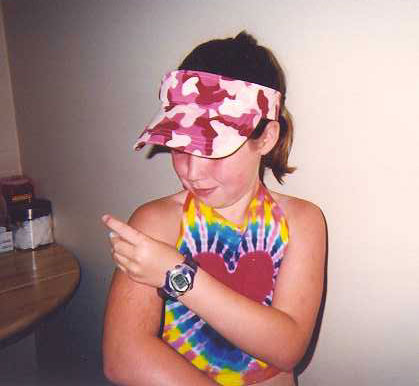 This is me giving myself my first shot at Camp Ho Mita Koda 9 years ago. It was scary but after I did it seemed easy and now I can do it all the time!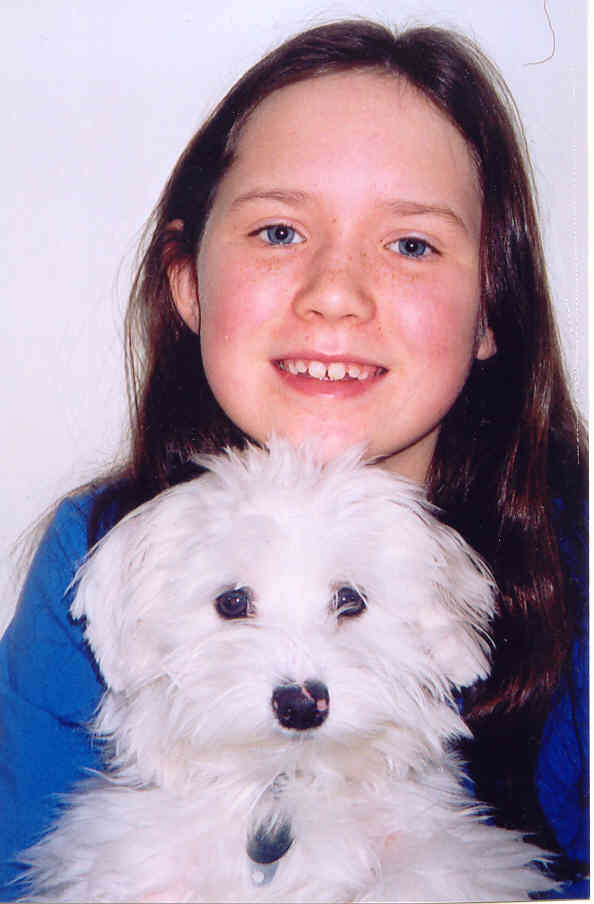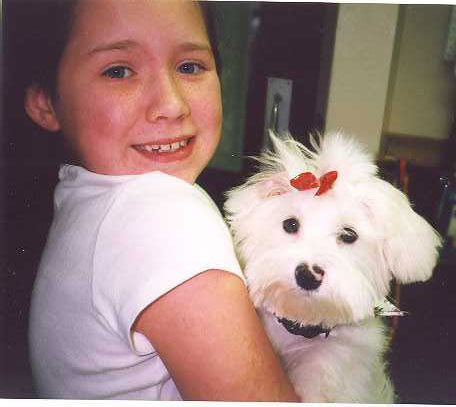 Here is my dog, Sir King Charles Chester Of York Treubig. We call him Chez or Chez Man or Chez Myster or Chezie Whezie. He is so cute in the snow because he jumps up and then comes down and is covered by snow so you can't see him. I took him sled ridding this weekend and he loved it! I just got him for Christmas.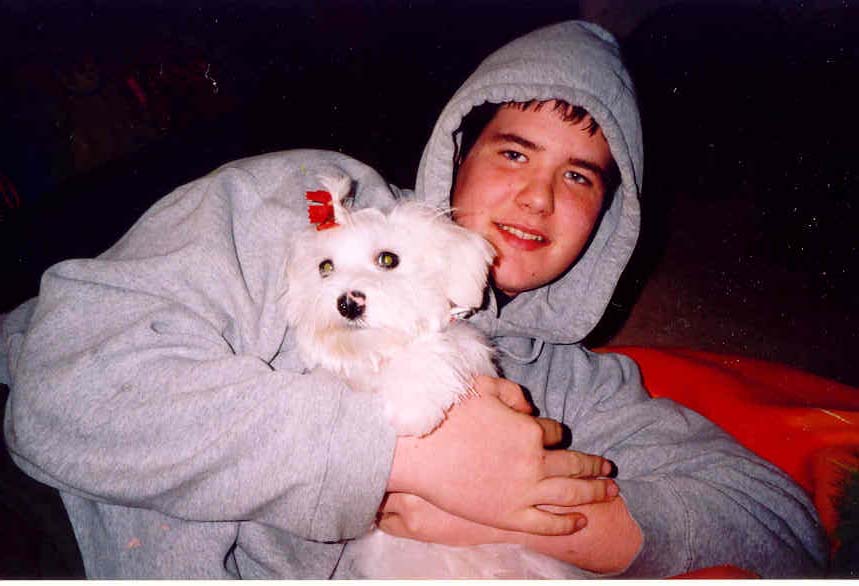 This is my brother with our puppy.
Here is my NEW puppy, "Rusty" or Sir Lancelot Russell of Yorkie Treubig.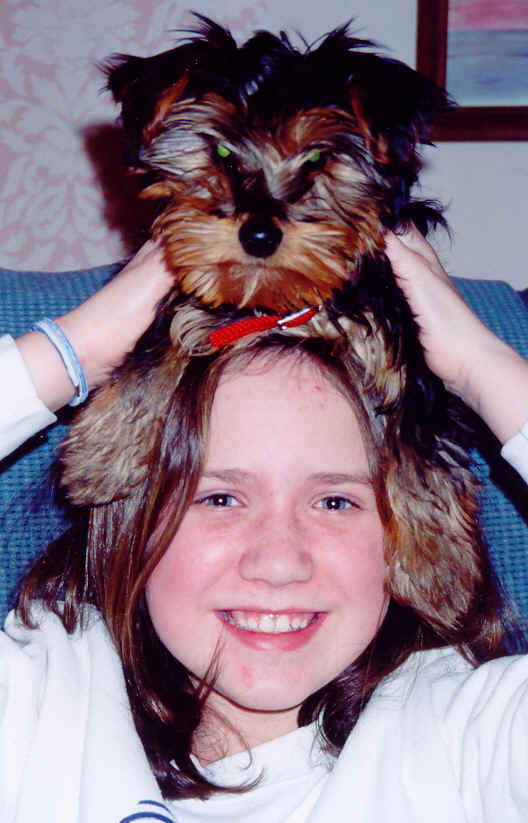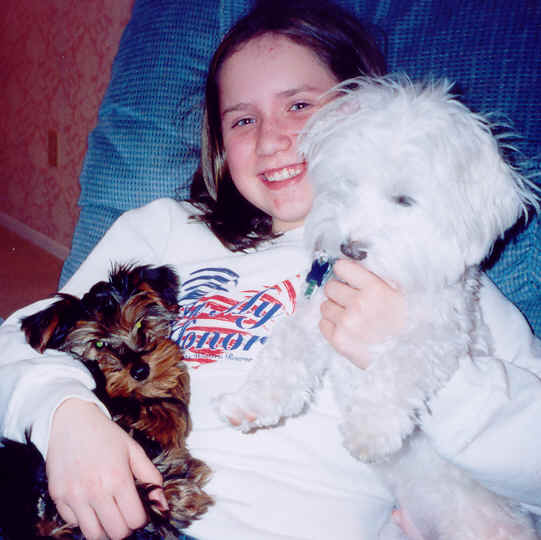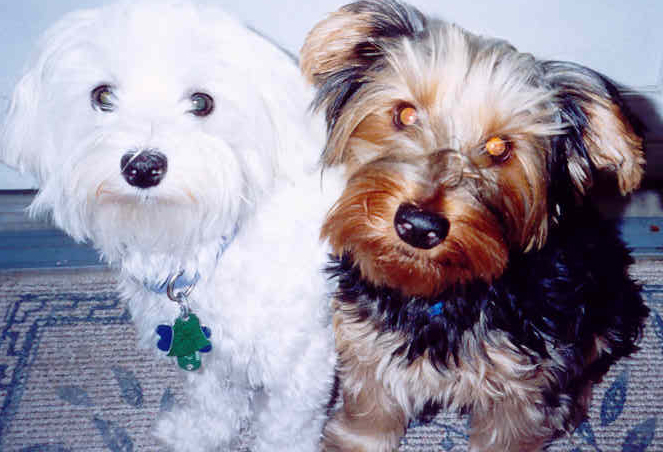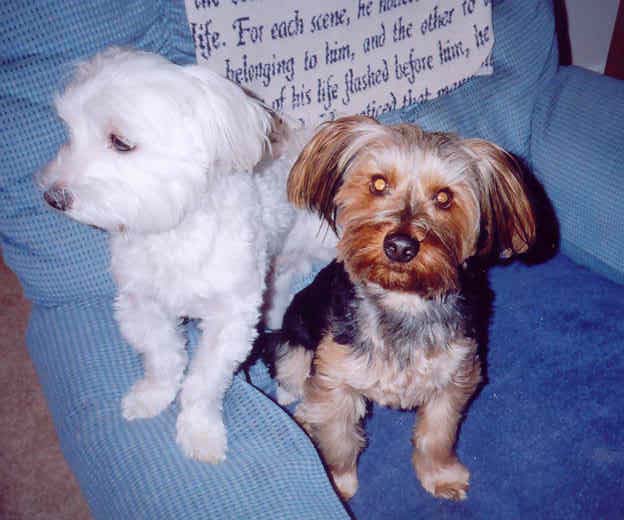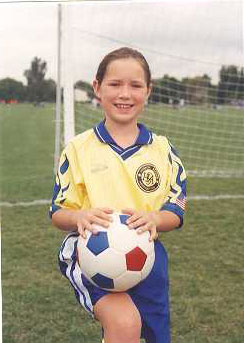 This is my soccer picture. I take my pump off when I am playing soccer because I am the goalie most of the time.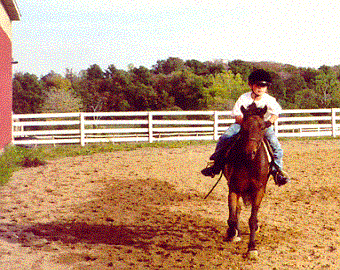 This is me on my horse Bo. He likes to canter and jump. I rode him at Nottoway Farms (2002) .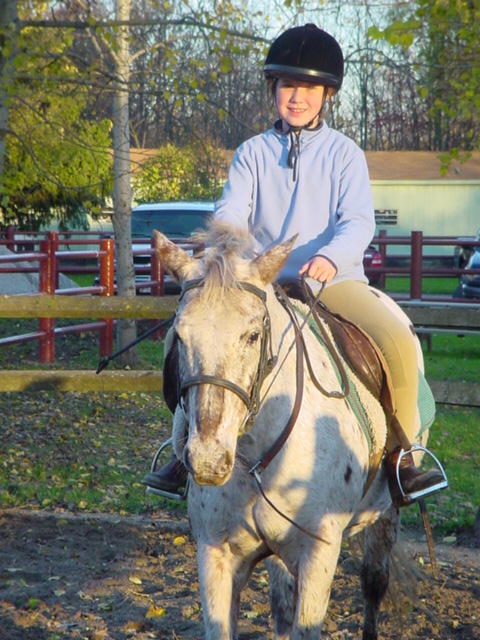 This is AJ. He is ornery all the time. I rode him at Hudson Equestrian Center (2003).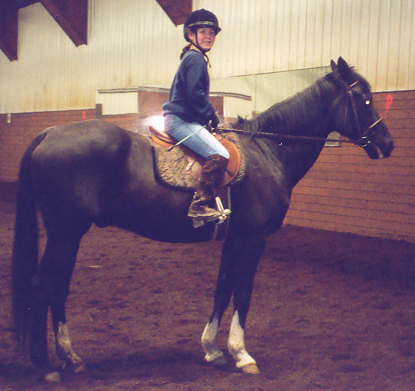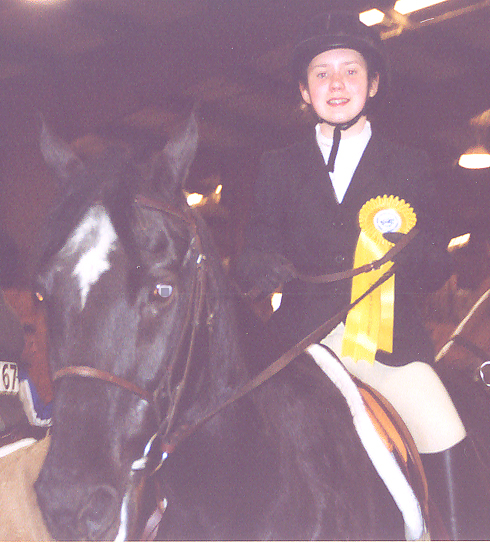 This was my favorite horse, Jebes. I won 3rd place on him at a horse show. I rode him at Pferd Stables (2004)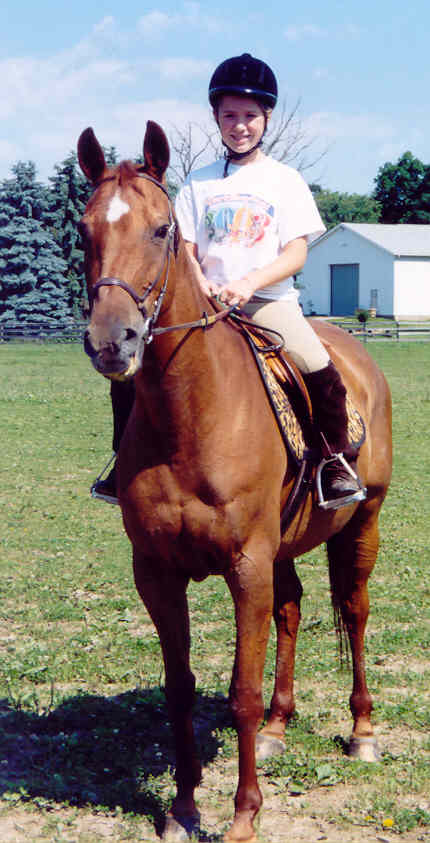 This is Fia. She is great to ride at Pferd Stables.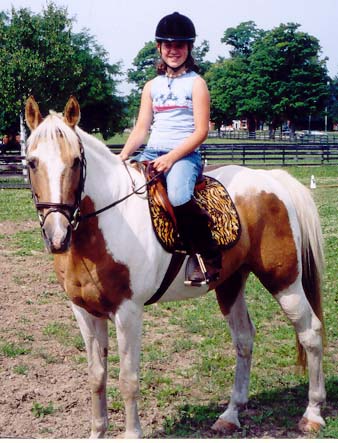 This is Patches. He is sweet.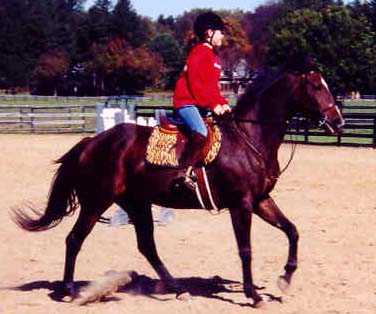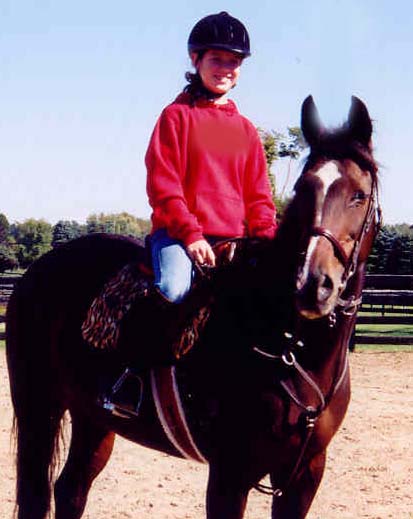 This is Kitty. She is the best horse I have ever ridden! Isn't she cute? I don't own her but I lease her 3 times a week. She lives at Pferd Stables- 2004.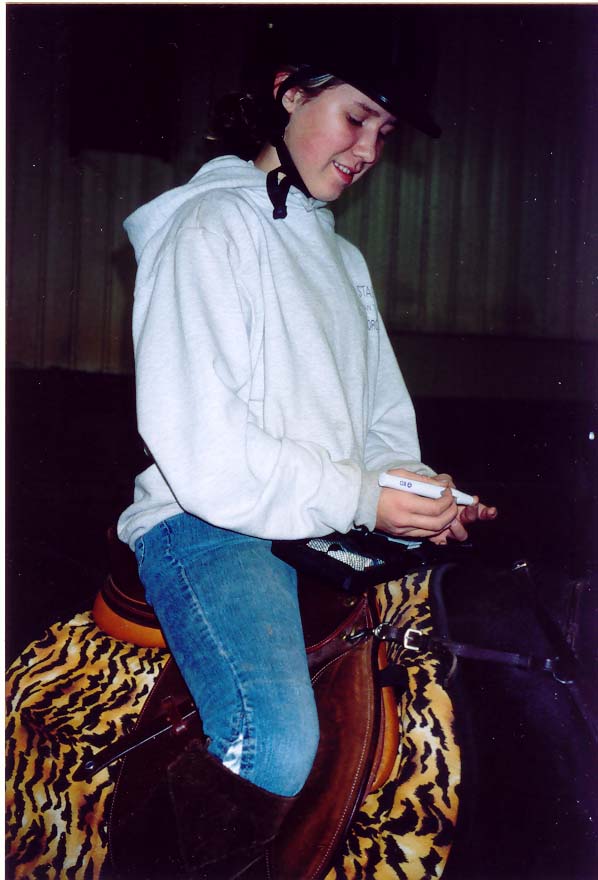 This is me testing while ridding Kitty (see this on the Children With Diabetes Web site).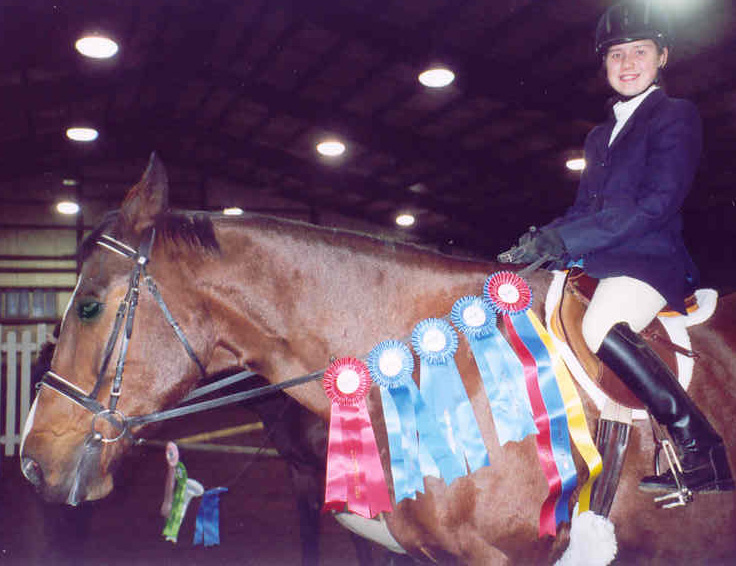 This is Stephanie on Chuck. They won 2-1st place and 1-2nd place and then took the best in show ribbon at Chagrin Valley Farm Horse Show November 2004. Chuck is owned by Marlynna of Pferd Stables.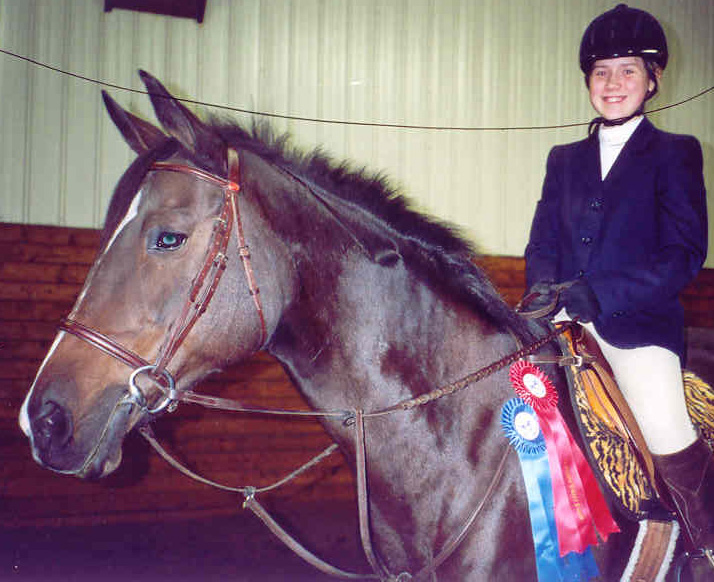 Stephanie and Kitty won 1st and 2nd place at Chagrin Valley Farm Horse Show, November 2004.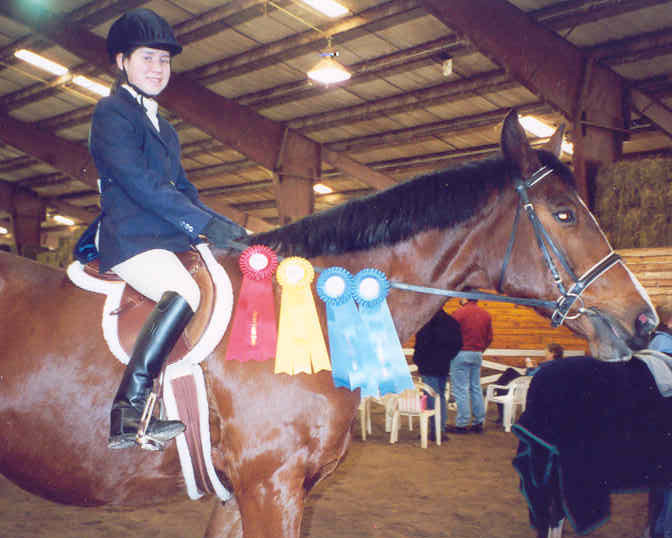 Stephanie and Chuck (owned by Marlynna)
Chagrin Academy Show
2.6.05
Hunter 18"
1st, 2nd, 1st, 3rd
Grand Champion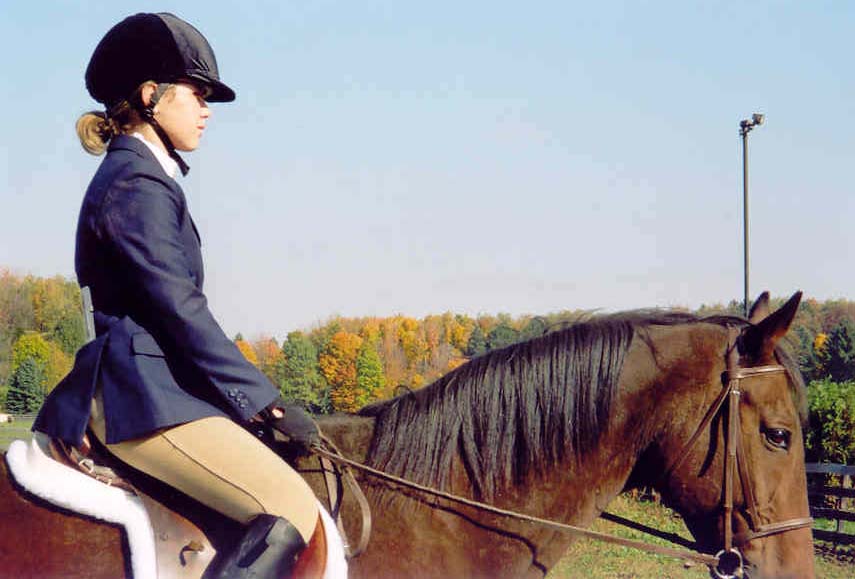 Stephanie on Harley (owned by Jeanne Lee) at the Pferd Stables Dressage Show 2005.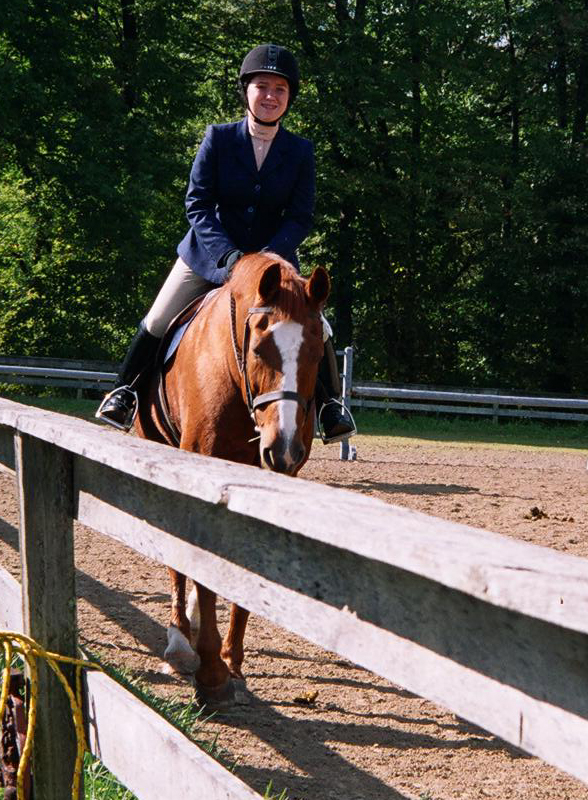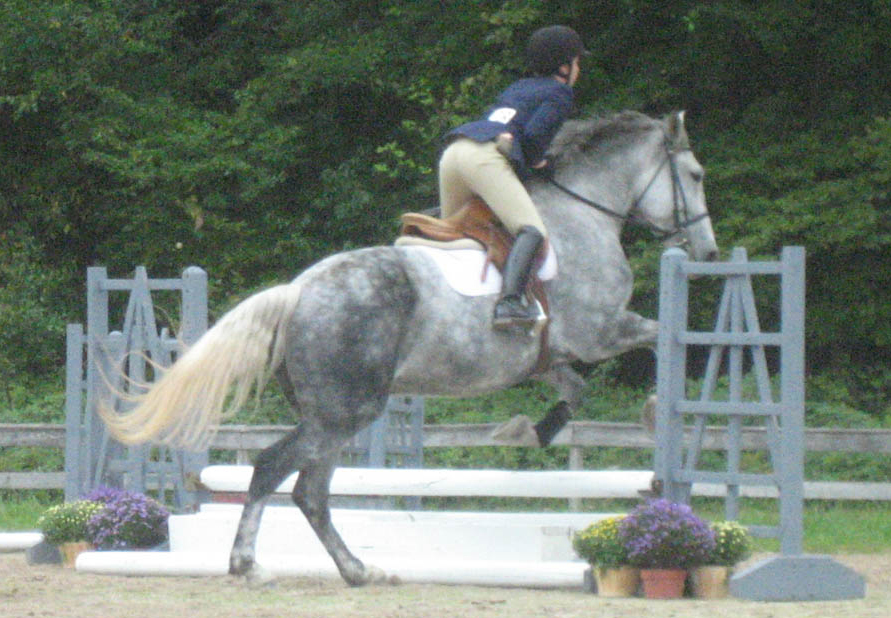 Stephanie ridding with Pferd Stables IEA Team at North Star. 9/2006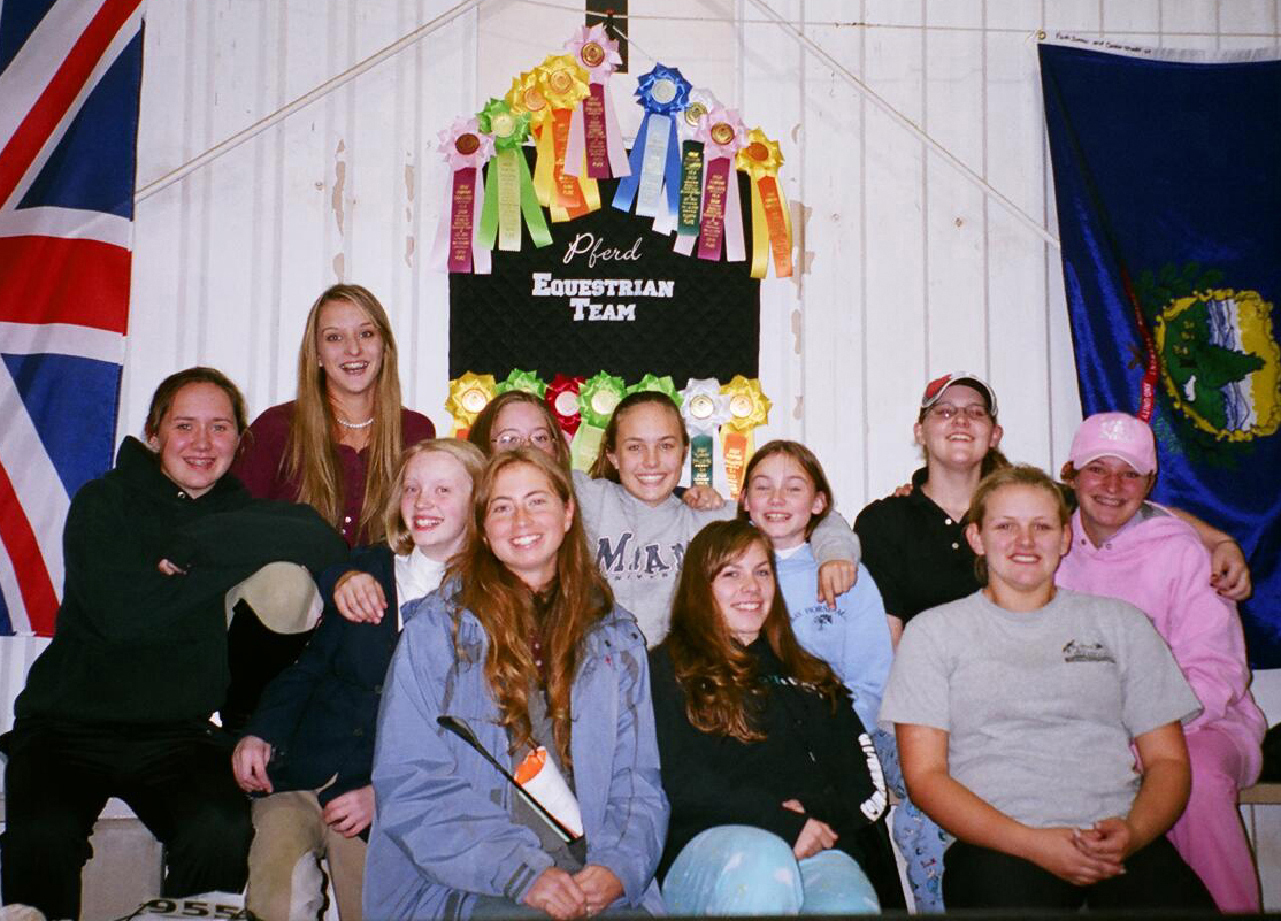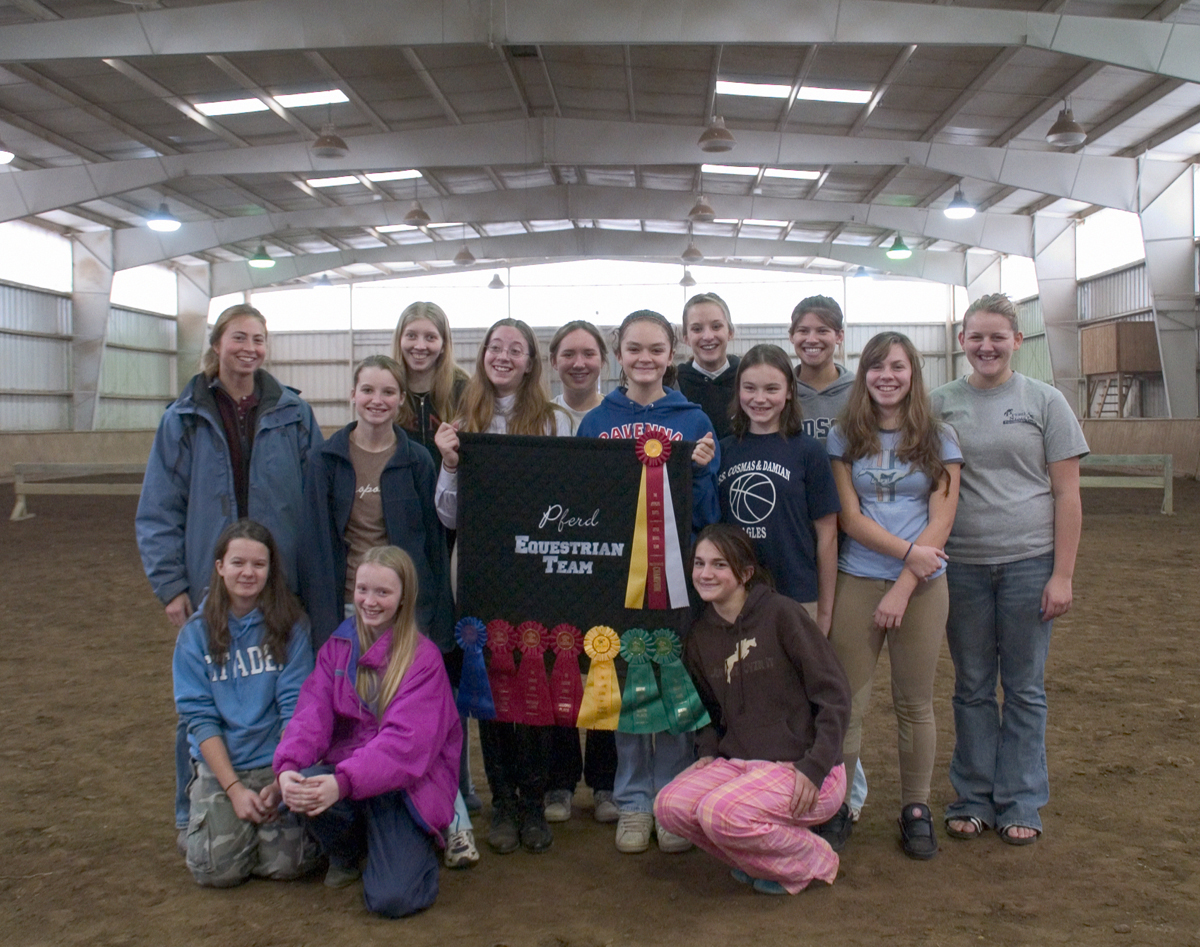 The Team at Lake Erie College and Andrews School (2006)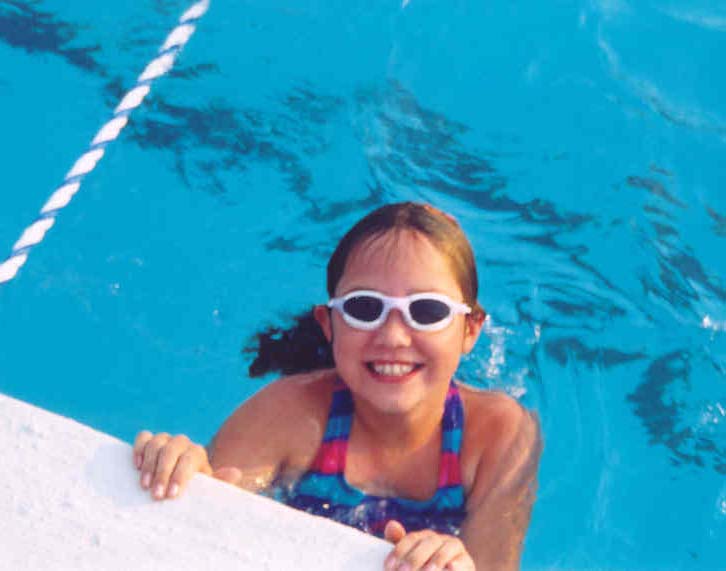 This is me at our pool. I love to swim!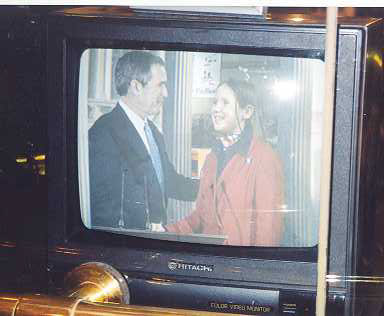 I went to Washington DC for the JDRF Annual Meeting and met President Bush!! I asked him to support stem cell research and increase funding for diabetes research (this picture is just a joke, but I would ask him if I ever meet him!!).

March 21, 2004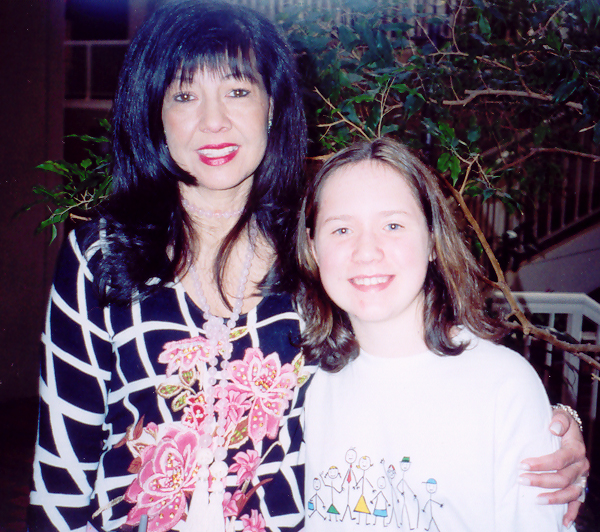 I met Jody at a POLO weekend getaway in Richfield, OH. Jody DeMarco is truly grateful for her many blessings. Diagnosed with type 1 diabetes in 1970 at the age of 13, the 46-year-old Philadelphia resident celebrates freedom from the need for insulin injections. "I have a whole new life," she says. Jody recently received two islet cell transplants through the JDRF Center for Islet Transplantation at the University of Pennsylvania—one on November 2, 2001, and another on January 9, 2002. Since the second transplant, she has not required insulin injections to control her blood sugar levels and says she is finally living a "relatively normal" life.
Like most patients, Jody needed two transplants before she was completely free from the need for insulin injections. Her first transplant in November 2001 allowed her to decrease her insulin requirements from 44 units to 6 units per day. After the second procedure two months later, she was able to discontinue all shots. "I still check my blood sugar once in the morning and once at night, mostly out of habit," says Jody. "But I haven't had any problems. I can eat cake and candy and french fries… it's great!"

April 2004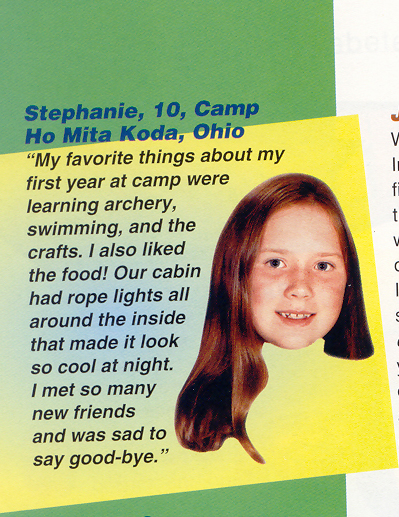 Look for me in the JDRF Countdown To a Cure for Kids, Spring 2004 "Attention, Campers!", by Rachael Lewinson. I am talking about Camp Ho Mita Kota.


Here I am on the JDRF web page talking about Camp Ho Mita Kota. You can read the entire story HERE!
I am also on the Kids Online Idea Zone page!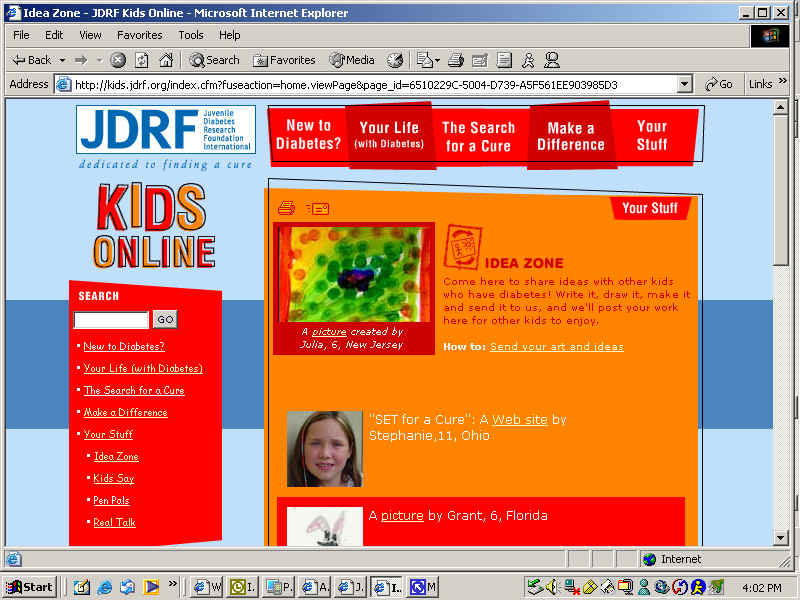 This is me on the Children With Diabetes web page. I recently became one of the International Diabetes Youth Ambassadors (IDYA). Click here to go to the CWD web page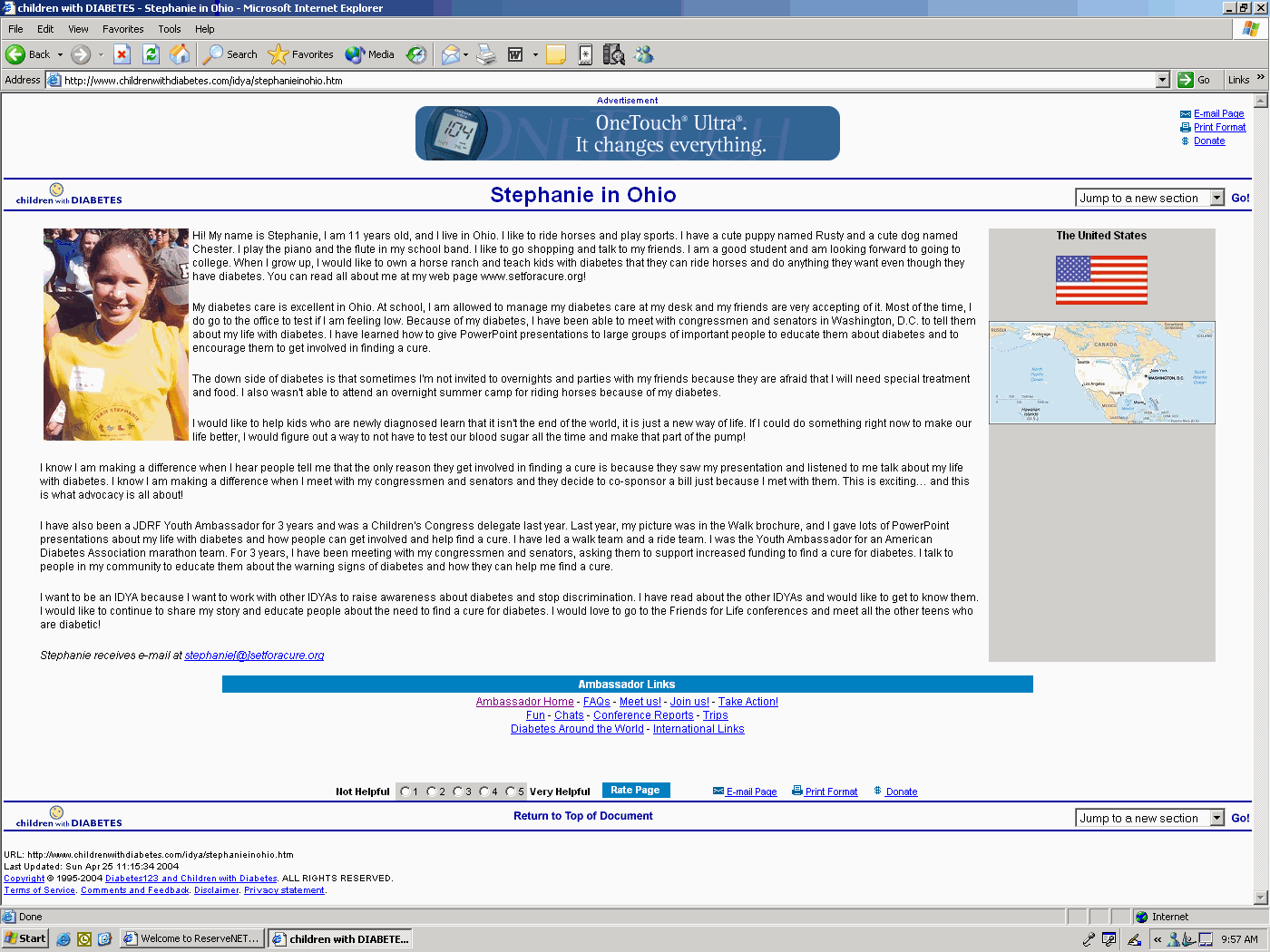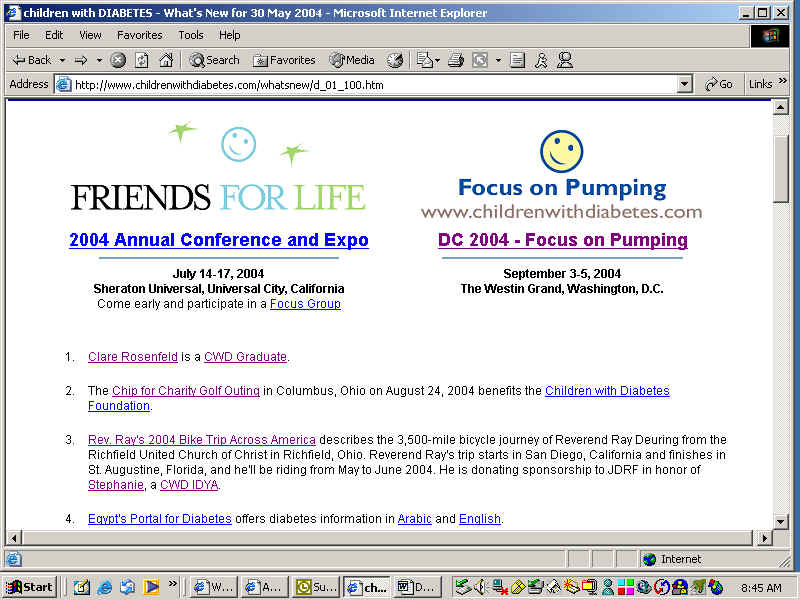 10/04
Diabetes Care in Interesting Places
Diabetes care is part of life, so we often find ourselves checking blood sugars, taking insulin, and changing infusion sets in interesting places and at interesting times. Here are some great examples of people living life to the fullest and taking care of their diabetes at the same time. We've organized the photos by category and show the most recent three here. Follow the links to see all the photos.